Cimitero narrativo: Disposizione rituale e riassetto. Una proposta progettuale per il Michigan Memorial Park Cemetery USA
Parole chiave:
Cimitero, Narrazione, (coloro che sono) In lutto, Artefatto, Monumento
Abstract
"Il cimitero narrativo" propone una riconsiderazione dei rituali americani contemporanei di sepoltura e dei metodi degli individui per commemorare. Un archivio di storie di famiglia è stato sviluppato per diventare un campo di monumenti confrontando diversi problemi all'interno della cultura contemporanea della sepoltura. Le narrazioni mantengono un ruolo fondamentale nell'afflizione, nel processo di "riassetto". Il monumento narrativo impegna questo fenomeno interpretando ed esponendo storie del defunto su un campo di segni e monumenti. Segni personalizzati e tattili coinvolgono i parenti in lutto e costruiscono un ambiente coinvolgente per il rituale, in cui la presenza del singolo è sentita e immortalata.
Riferimenti bibliografici
Mark Binelli, Detroit City is the Place to Be: The Afterlife of an American Metropolis. Henry Holt and Company, New York, 2012
Bloomer, Taylor, Ward, Vito Acconci. Phaidon Press, New York, 2002
E. Buglass, "Grief and Bereavement Theories" in Nursing Standard, RCN Publishing, 2010, 41(24), pp. 44-47
Paige Cooperstein, "20 Beautiful Cemeteries that Are Absolutely to Die For," The Life Journal (2014) accessed March 2, 2015
http://www.businessinsider.co.id/worlds-most-stunning-cemeteries-2014-2/#.VO-ZPPnF_EY
Neil Fitzsimons, Reimaging the Pariah City: Urban Development in Belfast & Detroit, Ashgate Publishing, England 1995
Aaron Glass, Jonaitis, Aldona, The Totem Pole: An Intercultural History, University of Washington Press, Seattle 2010
Michael K. Hays, Sanctuaries: The Last Works of John Hejduk. Whitney Museum of American Art, Houston 2002
John Hejduk, Architectures in Love: Sketchbook Notes, Rizzoli, New York 1995
John Hejduk, Lancaster/Hanover Masque, Architectural Association Publication, London 1992
John Hejduk, Pewter Wings, Golden Horns, Stone Veils, The Monacelli Press, New York 1997
Paul Hofmann, The Seasons of Rome: A Journal, Henry Holt and Company, New York 1997
Ebenezer Howard, Garden Cities of To-morrow, Faber and Faber, London 1946
Jane Jacobs, The Death and Life of Great American Cities, Vintage Books, New York 1961
Eric Jenkins, To Scale, Routledge, New York 2008
Peter Katz, The New Urbanism: Toward an Architecture of Community, McGraw-Hill, New York 1994
Judith Kirshner, Vito Acconci: A Retrospective: 1969 to 1980. Museum of Contemporary Art, Chicago 1980
Kevin Lynch, The Image of the City. M.I.T. Press, Cambridge 1960
Brent Ryan, Design after Decline. University of Pennsylvania Press, Philadelphia 2012
Jeff Speck, Walkable City: How Downtown Can Save America, One Step at a Time. North Point Press, New York 2012
Manfredo Tafuri, Modern Architecture/I. Rizzoli, New York, 1986
June M Thomas, Redevelopment and Race: Planning a Finer City in Postwar Detroit. Johns Hopkins University Press, Baltimore 1997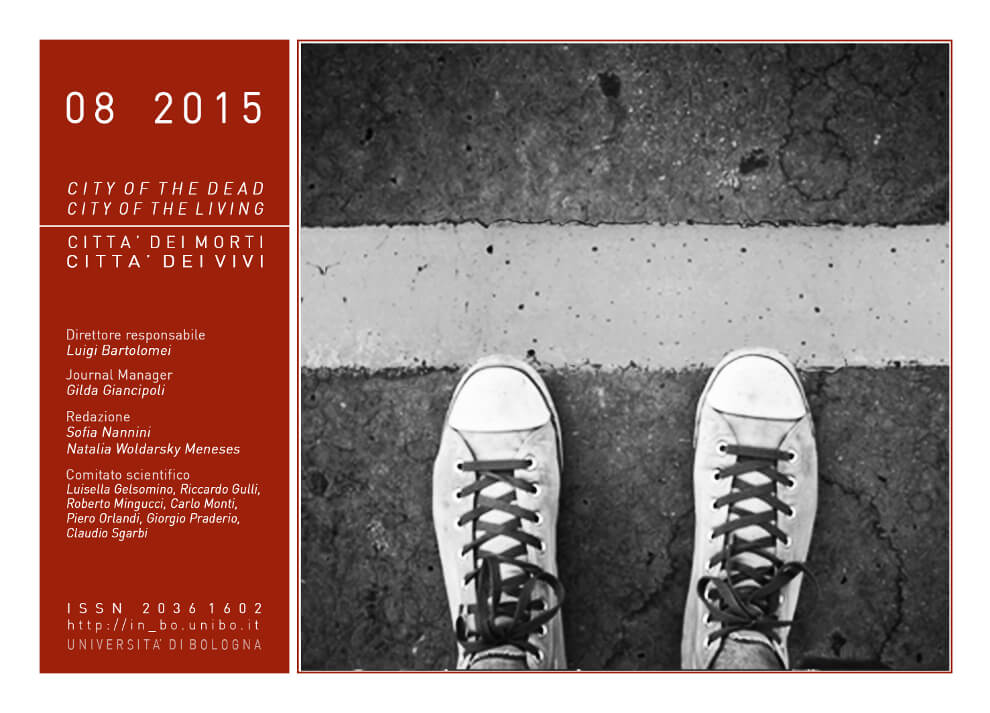 Downloads
Come citare
Cohen, D. L., & Culp, A. R. (2015). Cimitero narrativo: Disposizione rituale e riassetto. Una proposta progettuale per il Michigan Memorial Park Cemetery USA. IN_BO. Ricerche E Progetti Per Il Territorio, La Città E l'architettura, 6(8), 114–124. https://doi.org/10.6092/issn.2036-1602/6080
Sezione
Architettura e cultura
Licenza
Copyright (c) 2015 Donna L. Cohen, Amanda R. Culp
I diritti d'autore e di pubblicazione di tutti i testi pubblicati dalla rivista appartengono ai rispettivi autori senza alcuna restrizione.
Questa rivista è distribuita con licenza Creative Commons Attribuzione - Non commerciale 3.0 Unported (licenza completa).
Vedere anche la nostra Open Access Policy.