Infrastrutture come Occasione di Arte Pubblica per la Valorizzazione e l'Identità del Paesaggio
Parole chiave:
paesaggio urbano, spazio pubblico, infrastrutture di trasporto, strategie di mobilità, arte pubblica
Abstract
Questo articolo esplora la complessità nella comprensione delle infrastrutture di trasporto come elementi positivi del paesaggio urbano mediante processi progettuali che uniscono specifiche qualità ed eccellenza estetica con le relative caratteristiche d'operatività e d'uso. Questo studio è tratta dall'esempio del sistema tramviario di Strasburgo e consiste di quattro parti. La prima descrive la sinergia tra tram moderni come strategia di mobilità e il rinnovo dello spazio pubblico come parte di quella stessa strategia. La seconda parte è una struttura teorica e riflette sul rapporto tra le infrastrutture e il senso dei luoghi. La terza è l'analisi di tre nodi intermodali la cui comune caratteristica è l'unità con il relativo paesaggio urbanistico. L'ultima parte sintetizza i parametri del progetto e l'uso che l'autore ne fa per la concezione di questi progetti.
Riferimenti bibliografici
AA.VV. (1994), Le tram de Strasbourg. Un chantier et des hommes, La Nuée Bleue - DNA, Strasbourg.
Augé, Marc, (1995), Non- Places: Introduction to an Anthropology of Supermodernity, Verso, London.
Buchanan, C. (1973), El trafico en las ciudades (Traffic in Towns), Tecnos, Madrid.
Collins, Paul, (1995), The Tram Book., Ian Allan, Shepperton.
Cullen, Gordon (1961), Townscape, The Architectural Press, London.
Dell'osso, Riccardo, (2001), Architettura e Mobilitá, Libreria CLUP, Milano.
Diedrich, Lisa (1996) "Strasburg: the tram's comeback" in Topos: European landscape magazine no 15, pg.110-116.
Gehl, Jan, (2006), New City Life, Danish architectural press, Copenhagen.
Gehl, Jan, (2004), Public spaces. Public Life. Danish architectural press, Copenhagen.
Hung, Ying-Yu; Aquino, Gerdo, (2011), Landscape infrastructure : case studies by SWA, Birkhäuser, Basel.
Hof, Stephane; Klein, Claudia. (2004), Zaha Hadid : car park and terminus Strasbourg ; European Union Prize for Contemporary Architecture, Mies van der Rohe Award 2003, Lars Müller, Baden.
Jacobs, Jane (1967), Muerte y vida de las grandes ciudades, Ediciones penísula, Madrid.
Kerdilès Weiler, Angéla (2005), Limites urbaines de Strasbourg : évolution et mutation, Publications de la Société savante d'Alsace, Strasbourg.
Lilli, Thurn, (1995), "Points de mire: deux stations de tramway", in Baumeister no 92.9 1995, pg. 54-60, Strasbourg.
Litzler, Pierre, (2005), "L'architecture comme art dans l'espace public : Zaha Hadid et le terminal multimodal du tram de Strasbourg : contexte, concept et dispositive", in Université Marc Bloch, Strasbourg.
Lynch, Kevin, (1964), The image of the city, MIT Press, Cambridge.
Mumford, Lewis (1964), The Highway and the City, Secker & Warburg, London.
Parcerisa, Josep; Rubert, Maria (2002), "Metro : galàxies metropolitanes = galaxias metropolitanas = metropolitan galaxies", in Barcelona : Transports Metropolitans de Barcelona : ETSAB : Edicions UPC, Barcelona.
Richards, Brian, (2001), Future transport in cities, Spon Press, London. Strasbourg City Council, (1999), "Transport Policy, The Stakes of Sustainable Transport," Strasbourg City Council, Strasbourg.
Schwien, Jean-Jacques, (1994), La place de l'homme de fer. Strasbourg. 10 ans d'archéologie urbaine, de la Caserne Barbare aux fouilles du Tram, Strasbourg.
Smets, Marcel; Shannon, Kelly (2010), The landscape of contemporary infrastructure, NAi Publishers, cop. Rotterdam.
Venturi, R, (1972), Complejidad y contradicción en la Arquitectura, Gustavo Gili, Barcelona.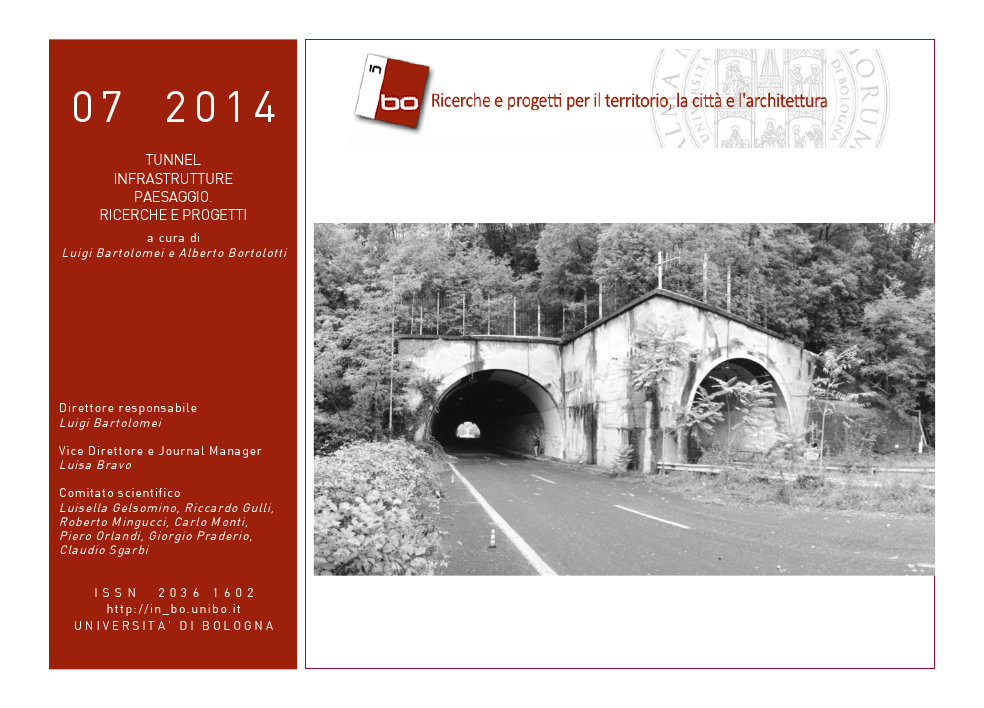 Downloads
Come citare
Stipcic, M. (2014). Infrastrutture come Occasione di Arte Pubblica per la Valorizzazione e l'Identità del Paesaggio. IN_BO. Ricerche E Progetti Per Il Territorio, La Città E l'architettura, 5(7), 135–152. https://doi.org/10.6092/issn.2036-1602/5034
Sezione
Paesaggio, Ambiente e Infrastrutture
Licenza
Copyright (c) 2014 Milos Stipcic
I diritti d'autore e di pubblicazione di tutti i testi pubblicati dalla rivista appartengono ai rispettivi autori senza alcuna restrizione.
Questa rivista è distribuita con licenza Creative Commons Attribuzione - Non commerciale 3.0 Unported (licenza completa).
Vedere anche la nostra Open Access Policy.